Responsible Gambling
Introduction
Gambling addiction can affect people from all walks of life. Your gambling progresses from a harmless diversion to a dangerous obsession with serious ramifications. A gambling problem can strain relationships, interfere with work, and lead to financial disaster.
Whether you bet on sports, scratch cards, roulette, poker, or slots in a casino, at the racetrack, or online in this article, you will find out how to identify the indicators, measures to take to curb it and further steps to get help.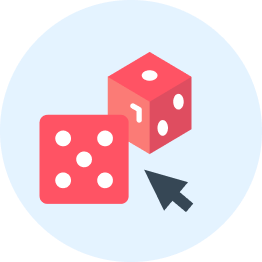 01.
How to Avoid Getting Addicted
For the most part, online gambling is seen as a harmless diversion. However, online gambling might be a concern for a small proportion.
The vast majority of people who shop with us online will have no issues. On the other hand, playing responsibly isn't just for people with or at risk of developing a gambling issue. EVERYONE can benefit from this strategy.
Because we value client satisfaction above all else, we only partner with reputable gambling sites to promote their services to our visitors, additionally, by offering support and assistance to people who are struggling to keep their gambling under control.
The following features can be found on the UK-licensed websites that we suggest:
Provide reminders to assist you to regulate the amount of time you spend playing online by setting up "reality checks."
Decrease, increase, or eliminate deposit limitations as needed. These can be established for periods ranging from one day to a month and changed as required.
Your transactions, deposits, and withdrawals are all available to keep track of your gambling activities so that you can monitor your progress.
Time-outs can range anywhere from 24 hours to six weeks. Take a Break/Time-outs
Each website has the option to "self-exclude" you. There is no time limit on how long you can use self-exclusion.
When playing with the auto-play feature enabled, you'll be prompted to set your stake and loss restrictions before the game begins. Stopping and pausing the game is always an option.
Identifying the Issue
There's nothing wrong with gambling on occasion, and being a high roller who bets significant sums of money frequently does not automatically constitute someone a "problem gambler." However, depending on the conduct they display about their play, even casual gamers who engage in low-stakes games might have a problem.
Several organisations have published criteria for identifying and diagnosing gambling problems. The Diagnostic and Statistical Manual of Mental Disorders (better known as DSM-5) includes the following criteria, which the American Psychiatric Association uses:
To feel the desired level of thrill from gambling, the player must bet with increasing quantities of money.
Attempts to reduce or stop playing result in anger and restlessness.
Attempts to restrict or stop their gaming have continually failed.
Gambling is a common distraction for them.
Gambling is a coping mechanism for those who are distressed.
They try to recoup their losses by betting more.
They lie to their loved ones to keep their gambling habits hidden.
Their gambling has jeopardised a significant relationship, employment, or educational opportunity or resulted in its loss.
They've had to rely on others to help them pay their bills after they've lost money gambling.
One or two of these behaviours may not be enough to indicate a major problem, but if you display several of them regularly, you may have a problem. If at least four of these criteria are satisfied, the disorder is deemed mild; six criteria suggest a moderate disorder, and eight or more indicate a serious problem.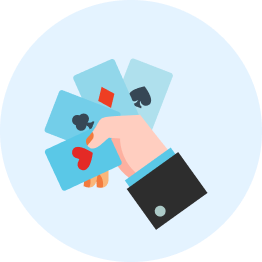 02.
How I'll know if I've got an issue
Asking yourself the following questions will help you determine whether your gambling is no longer enjoyable and is potentially out of control:
Do you bet alone for lengthy periods, maybe missing out on work or other activities?
Have you ever felt the urge to keep increasing your gambling bet to attain the thrill you desire?
As a result of your gaming, do you experience mood swings, impatience, or agitation?
Do you believe you gamble to avoid dealing with other difficulties or concerns in your life?
Do you keep a secret about your gaming losses?
Have you ever tried and failed to cut down on the amount of time or money you spend gambling?
Have you ever considered defrauding someone to fund your gambling?
Have you ever returned to the internet to try to recoup your losses on a different day?
Have you ever kept your gaming habits a secret from those who matter to you?
Have you borrowed money that you haven't been able to repay because of your gambling, or are you otherwise in debt as a result of gambling?
Have you ever sold something to get money to gamble or pay off debts from gambling?
Do you breach agreements with family and friends to gamble instead?
Do your gaming habits make you feel isolated?
If you answered "yes" to any of these questions, you may need to use the advice below to take control of your gambling. On the BeGambleaware website, you may also complete the confidential 'Concerned about your gambling' quiz to see whether your gambling is becoming a problem.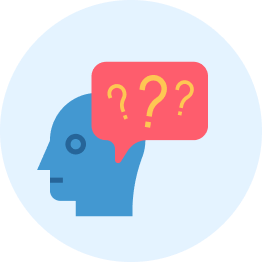 03.
Where can I get assistance?
If you feel that you are getting addicted or already to gambling and think there is a need to seek assistance for help, below are sites that can be useful to you:
Gamblers anonymous
GAMBLERS ANONYMOUS has formed a group of anonymous men and women who meet regularly to share their stories, advice, and encouragement to assist themselves and others struggling with gambling addiction.
Members must have a desire to quit gambling to join. There are no fees or dues; they are self-supporting. Any affiliation with any religious, political, or other group is not a requirement for membership in Gamblers Anonymous; the group does not advocate or oppose any cause. Their major goal is to assist other compulsive gamblers in quitting gambling and doing the same.
We've been reluctant to confess that we have actual gambling problems for the most part. There is nothing worse than feeling like a minority. Because of this, our gaming careers have been marked by a plethora of fruitless efforts to demonstrate that we could bet like other people. Every compulsive gambler is obsessed with the thought that they would be able to stop gambling one day. It's mind-boggling how long this delusion has lasted. Even death and insanity are possible outcomes for those who seek it.
We came to terms with the fact that we are compulsive gamblers and had to admit it to ourselves. First and foremost, this is the beginning of our return to health. When it comes to gambling, we need to demolish the illusion that we're like other people or that we currently are. We've completely lost all control over our gambling habits—those addicted to gambling never recover their composure. At times, we could feel in control again, but a relapse followed this into even less control, which eventually led to demoralisation that was terrible and unfathomable. We're certain that problem gamblers like ourselves suffer from a debilitating disease. We always grow worse, never better, over time. This is the truth. For this reason, to have an everyday and happy life, we strive to adhere to a few essential standards.
The well-being of our entire fellowship and its members during this challenging time is the highest priority for the Gamblers Anonymous International Service Office.
Bettors Anonymous
Gambling has impacted individuals of all ages and socio-economic backgrounds since its inception. It has been an issue for people of all ages and backgrounds. Nothing in current or ancient literature or history is without reference to it. "Twelve Steps of Recovery" and "Twelve Unity Steps" of Bettors Anonymous are covered on this site.
In Bettors Anonymous, there are twelve steps to recovery. For those who suffer from obsessive-compulsive disorder (OCD), spiritual practices may help them overcome their addiction. The twelve steps of Bettors Anonymous govern life in the group. It explains how Bettors Anonymous maintains its unity and reacts to its world and how it grows and develops as an organisation.
An organisation for gamblers, Bettors Anonymous, is a group of people who assist each other overcome their addictions to gambling by sharing stories, strength, and hope with each other.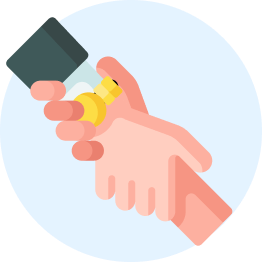 It's never easy to overcome a gambling addiction, know about the warning signs and symptoms, as well as how to avoid them but seeking professional help doesn't mean you're weak or incapable of dealing with your problems. Remember that every gambler is different, so you'll need a recovery plan tailored to your specific needs and circumstances. Depending on your case, you can either seek medical help or join a group that can help you with the addiction, where you will have a sense of belongingness because, as said earlier, it can be lonely and stigmatising.